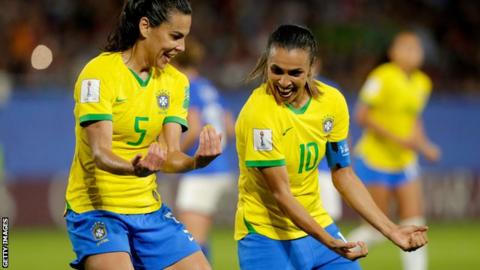 Brazilian legend Marta broke yet another record when she scored the winning goal against Italy and won the Player of the Match award in the BBC Sport player rater.
Marta's 17th goal at a World Cup tournament not only gave Brazil victory in their final group game, but saw her surpass German men's player Miroslav Klose as the outright top scorer in World Cup history.
Her 6.20 out of 10 was the highest of the match – see how you rated the other players.
Player of the match
Marta
Squad number

1

Player name

Giuliani

Squad number

7

Player name

Guagni

Squad number

11

Player name

Bonansea

Squad number

3

Player name

Gama

Squad number

5

Player name

Linari

Squad number

23

Player name

Giugliano

Squad number

10

Player name

Girelli

Squad number

19

Player name

Giacinti

Squad number

4

Player name

Galli

Squad number

13

Player name

Bartoli

Squad number

17

Player name

Boattin

Squad number

2

Player name

Bergamaschi

Squad number

21

Player name

Cernoia

Squad number

18

Player name

Mauro

["source=bbc"]